In case you missed it, the movie Trolls has spawned off an animated series on Netflix called Trolls The Beat Goes On. Honestly, my family binged on it and watched it in one day. Yes it was that good and yes they are quick episodes. The show features all the characters we loved in the movie but now in new adventures! There is lots of singing and of course glitter.
Does anyone spread love better than a Troll from DreamWorks Animation and Netflix's new series TROLLS THE BEAT GOES ON? Probably not! And so here's some absolutely adorable Valentine's Cards you can print and share with people you love! The glitter is implied but not included! 😉
Click below to download and print out fun Trolls Valentine's Cards! You could even glue them on sturdier paper or give as they are.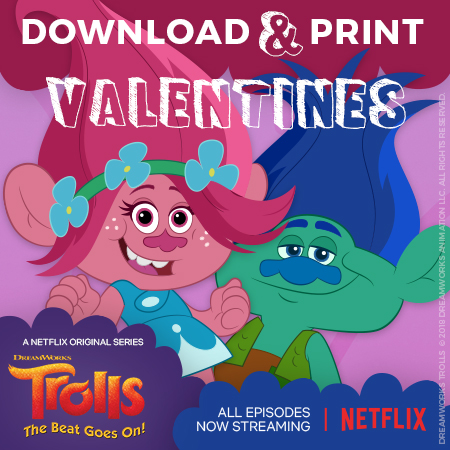 Stay Connected with Netflix: